ST. JUDE HIGHLIGHTS THE POWER OF ONE AND AVERITT'S 30-YEAR COMMITMENT TO THE HOSPITAL'S MISSION
---
Post Date - Nov 17, 2020
Our team was recently featured on a St. Jude Children's Research Hospital blog post that highlighted the positive impact of the Averitt Cares for Kids program, the longest-running company giving program in St. Jude's history. Since 1990, more than $8 million has been donated from Averitt associates to St. Jude.
Pete Upton, one of our truck driving associates, is profiled in the St. Jude blog. His family benefited from St. Jude's care for his young son who was diagnosed as a toddler with acute lymphoblastic leukemia, the most common form of childhood cancer. Now 10, Upton's son is a healthy, active little boy, free of cancer.
The Averitt Cares for Kids program directs $1 per week from the paychecks of participating associates to charities that focus on children, primarily benefiting St. Jude. Last year's donation from Averitt associates – 96% of whom participate in the program – totaled $1,000,001. That extra dollar at the end signifies our "Power of One" mantra.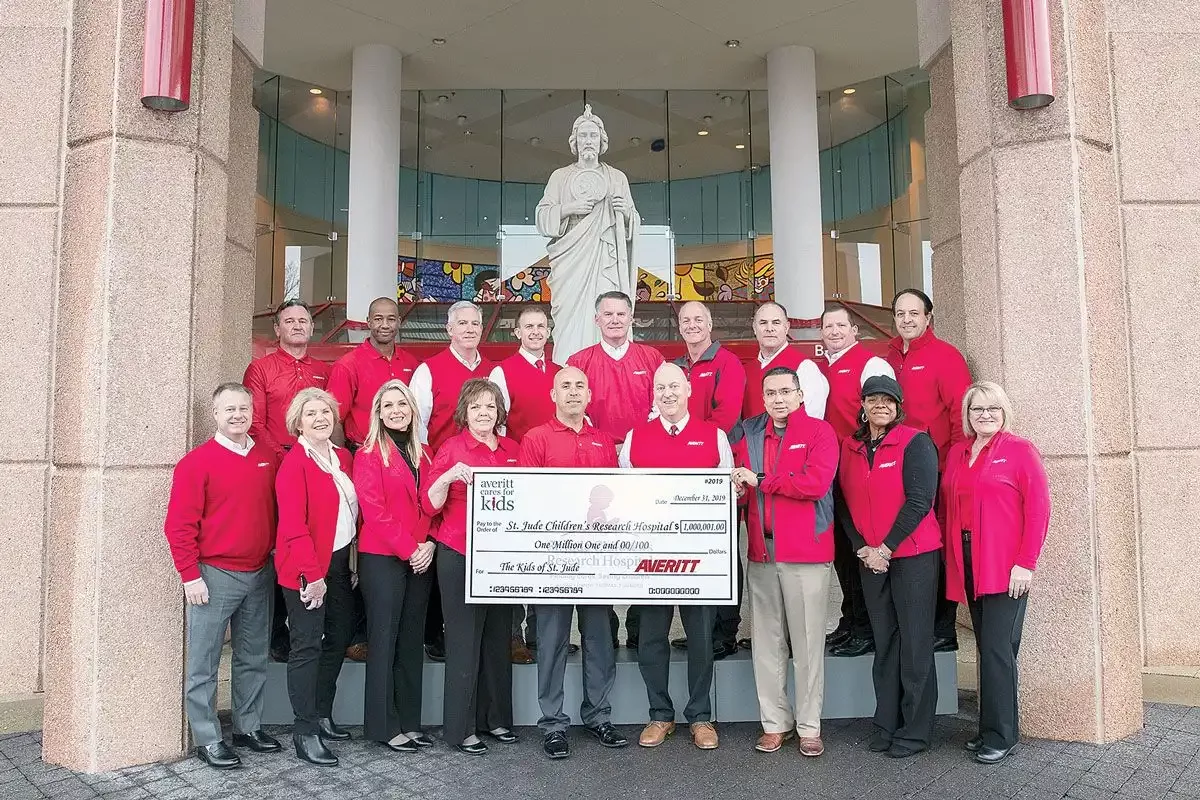 "That dollar a week changes so many lives through Averitt Cares for Kids," said Dusty Barrow, a member of our associate engagement team that helps oversee the giving program. "You see the power of one dollar, the power of one mission. It resonates in every single thing we do at Averitt."
We are so proud of the generosity and dependability of our amazing associates, which is evident in our support of St. Jude and the Power of One culture.
The St. Jude blog noted that in addition to helping the hospital ensure families never receive a bill for treatment, travel, housing or food, Averitt Cares for Kids funds have helped refurbish inpatient units and sponsored the Averitt Express Leukemia and Lymphoma Clinic.
We continue to help grow the partnership by making contributions honoring associates for their exemplary efforts, and on special occasions and events in their lives. Additionally, we match dollars for hours of community service associates give through our Team Up Community Challenge initiatives.
During the pandemic this year, Averitt associates have shown amazing resilience and determination to serve customers and support each other even with altered routines and changed work practices, including wearing masks and keeping social distance during deliveries.
"Drivers in general are very determined, very kind, very dedicated and loyal people," said Alice Crabtree of our associate engagement leadership and is married to a former truck driver. "Our associates truly are essential. They have moved America."
Read the full St. Jude's blog here. For more information on Averitt Express, connect with us today!